EECNC Movie Night
When: Thursday April 18, 2019
Where: Napa Valley College Performing Arts Center Main Theater
Time: Doors open at 6:30 pm.  Movies and discussion 7:00-9:00 pm.
Cost: $5 for adults, children 12 and under are free.
Tickets will be sold at the door. Please note- we can only accept cash payments.
All proceeds benefit the Environmental Education Coalition of Napa County's Darcy Aston Environmental Advocacy Scholarship Fund.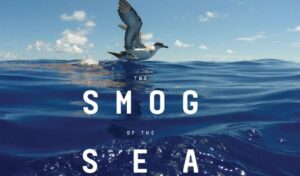 Smog of the Sea (30 min)
The Smog of the Sea chronicles a 1-week journey through the remote waters of the Sargasso Sea. Marine scientist Marcus Eriksen invited onboard an unusual crew to help him study the sea: renowned surfers Keith & Dan Malloy, musician Jack Johnson, spearfisher woman Kimi Werner, and
bodysurfer Mark Cunningham become citizen scientists on a mission to assess the fate of plastics in the world's oceans.
After years of hearing about the famous "garbage patches" in the ocean's gyres, the crew is stunned to learn that the patches are a myth: the waters stretching to the horizon are clear blue, with no islands of trash in sight. But as the crew sieves the water and sorts through their haul, a more disturbing reality sets in: a fog of microplastics permeates the world's oceans, trillions of nearly invisible plastic shards making their way up the marine food chain. You can clean up a garbage patch, but how do you stop a fog?
Using nostalgic super-8 footage, sparkling underwater cinematography, an original score by Jack Johnson and shipmate Simon Beins, and live action footage of the crew's research, The Smog of the Sea provides a new perspective on the once pristine oceans, and makes an artful call to action
for rethinking the scourge of the sea — single-use plastic. Directed by Peabody Award-winning and Emmy-nominated filmmaker Ian Cheney (King Corn, The City Dark, The Search for General Tso).
STRAWS (30 min)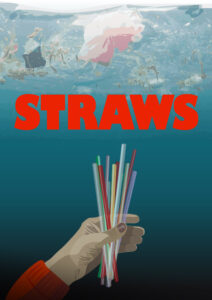 With colorful straw history animation narrated by Oscar winner Tim Robbins, STRAWS (30 minutes)leaves audiences with a clear understanding of the problems caused by plastic pollution and empowers individuals to be part of the solution.
It's estimated every day 500,000,000+ plastic straws are used once and tossed in the U.S. alone. Ocean Conservancy ranks straws as the #5 most found litter item on beaches. They're non-recyclable, so they wind up in landfills, litter streets and add to the estimated 8.5 million metric tons of plastic debris in oceans annually.
Director Linda Booker interviews Jackie Nunez, founder of The Last Plastic Straw, restaurant owners with "Straws by Request Only" policies, renown marine biologist and author Dr. Wallace J. Nichols, researcher Dr. Jenna Jambeck and Drifters Project artist Pam Longobardi. In Costa Rica we meet Turtle researchers Nathan Robinson and Christine Figgener, PhD student, Texas A&M University, who rescued and filmed the removal of a plastic straw in a sea turtle's nose that went viral in 2015. That story inspired middle school age student Max Machum to start #NoStrawChallenge #SinPajillaPorFavor and join a movement around the world that's making a sea of change, one plastic straw at a time.
Discussion will follow the short films!